Website Design & Development for Fishing Charters, Guides & Lodges
You see…we've got a pretty bad (or good, depends on how you look at it) case of water-on-the-brain and it comes through in our work.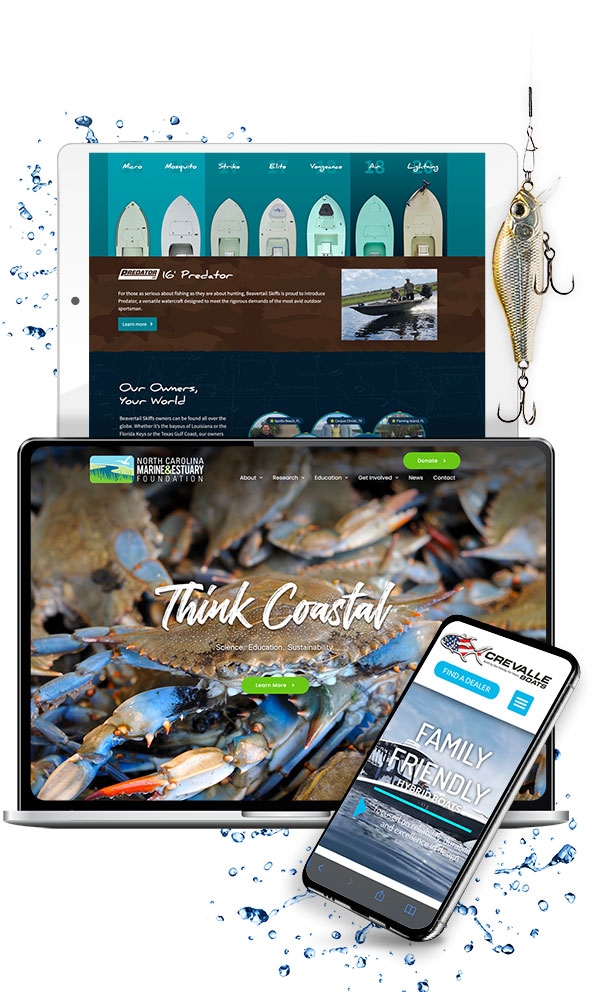 Your website is the most important tool you have for marketing your marine, fishing or lodge business.
Just as important is choosing an agency to design & develop your website, who understands your business and how to attract and engage outdoor enthusiasts.
That's where we come in. At Thrive, we're just as passionate about marketing for outdoors companies as we are about getting outside ourselves. We've been designing and building websites for over 20 years and have a proven process for creating successful websites for businesses just like yours. You see, we pride ourselves in designing great looking websites which engage outdoor enthusiasts and convert them to customers.
Every brand should be unique and yours is no different. Our designers are some of the best in the business and every website we design is customized to your brand using our results-driven methodology.
The best looking website in the world can't help grow your business if no one can find it. We understand how important the visibility of your website is and optimize every site we build to rank highly with search engines.
Selling products and processing online payments doesn't have to be a challenge. We design and build full-functioning eCommerce websites and have you covered from product inventory to shipping details.
Fast Load Times & Performance
Website performance matters. It matters to your users and search engines that your site loads quickly and performs flawlessly. Our team pays attention to the details and builds aesthetically beautiful, technically sound websites every time.
Responsive Website Design
The right design for your website, one that aligns your outdoor brand with the right audience, needs to be handled by skilled designers. Our creative team has the skills, industry know-how and experience to showcase your outdoor products and services the way you know they should be.
On average, over 50% of your website visitors are using a mobile device to surf the web. That's why each site we build is designed and coded to look just as good on your smartphone as it does on your desktop.
WordPress powers every site we build so you can be assured that managing and updating your site's content will be a snap. In-fact, we'll provide you with all the training you'll need to be the master of your website content.
With over 20 years of building websites we've developed a proven process and methodology for successfully building sites just like yours. We build sites that attract, engage and convert.
Testing and quality assurance are built into the fabric of our website process, it really shouldn't be any other way. When you hire Thrive to design your website, you can rest assured that it will work as great as it looks!
Ready to take your marketing to the next level?