Creative Services for Fishing Charters, Guides & Lodges
Our creative team is just that…CREATIVE to the bone. We derive inspiration from everything that surrounds us but nothing gets us more jazzed than working for clients in the fishing and marine industries.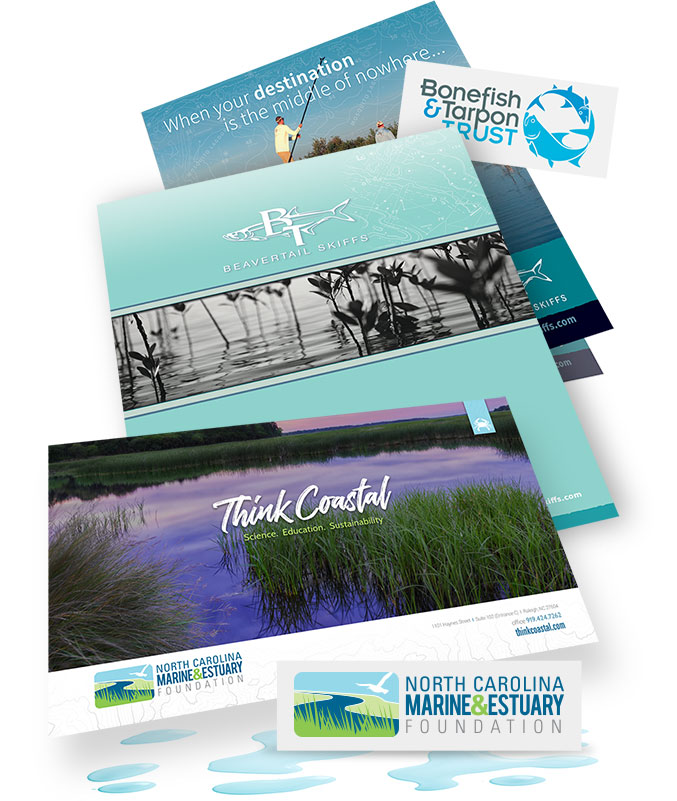 Give your brand a kick in the ass with some of the best creative in the business.
We're consummate professionals, we know how to listen and ask questions. But most importantly we know how to produce top-notch creative for fishing guides, charter businesses, fishing and marine brands and lodges. Creative that aligns your products and services with outdoor enthusiasts in a way that moves them.
"32% of marketers say visual images are the most important form of content for their business, with blogging in second (27%)." – HubSpot
Graphic design is the backbone of creating the visuals needed to marketing an outdoor brand like yours. We have some of the most skilled designers in the business to create everything you'll need from your logo to product catalogs. And everything in between.
Imagine the perfect website or product catalog without a single photo. Exactly. The visuals that accompany your brand are everything and we've got you covered. Depending on the subject matter, we'll either leverage owned media, shoot the photos or work with the best photographer to tell your story.
Marketing Collateral & Catalogs
Product brochures, cut sheets and catalogs are all still alive and well in the outdoor industries. In fact, if you don't have really great looking print materials, you're likely missing some huge opportunities. Our team just happens to be exceptional at designing and executing print collateral of all types and can handle the process from ideation to delivery of printed materials.
Vehicle wraps make a statement. Whether you're a fishing guide or a large, established outdoor brand…a well-designed vehicle wrap makes a memorable statement. From the actual design to working with installers, we'll turn your vehicle into a marketing machine.
Trade Show & Point-of-Purchase
You have to look great on show day! You have to. And it doesn't matter if your brand needs a simple 10'x10′ pop-up display or a 40'x40′ behemoth – you can still be a show stopper. Same with point-of-purchase displays. You have to demand attention. We're well-versed in all things trade show and have the team to make you stand out on the show floor.
A big part of telling your outdoor brand's story and attracting enthusiasts relies on developing the right voice and content for your advertising, marketing collateral and website. We'll help generate content that conveys your brand's culture and makes your products and services shine.
30 million visitors to YouTube each day has to say something right? The power of video from YouTube to Instagram to your website is undeniable in the outdoor space. When video content is a must, we'll help acquire the right team and ensure that your project is on-brand.
The right package design can make or break the presentation of your outdoor products. Whether it's to attract attention in crowded retailers or to create the perfect delivery presentation to your customers, your product packaging has to look spectacular.
For many fishing and marine brands, advertising in niche publications is a must. Whether you're looking to place a series of full-page ads in the hottest fishing magazine or you're creating digital ads for Instagram, we'll craft clean, evocative ads that demand attention.
Ready to take your marketing to the next level?