Marketing & Branding for Fishing Charters, Guides & Lodges
Although your logo is certainly a part of what makes up your visual identity, your logo is not your "brand". In fact, your brand is much more than your logo and it's more about how outdoor enthusiasts perceive your company.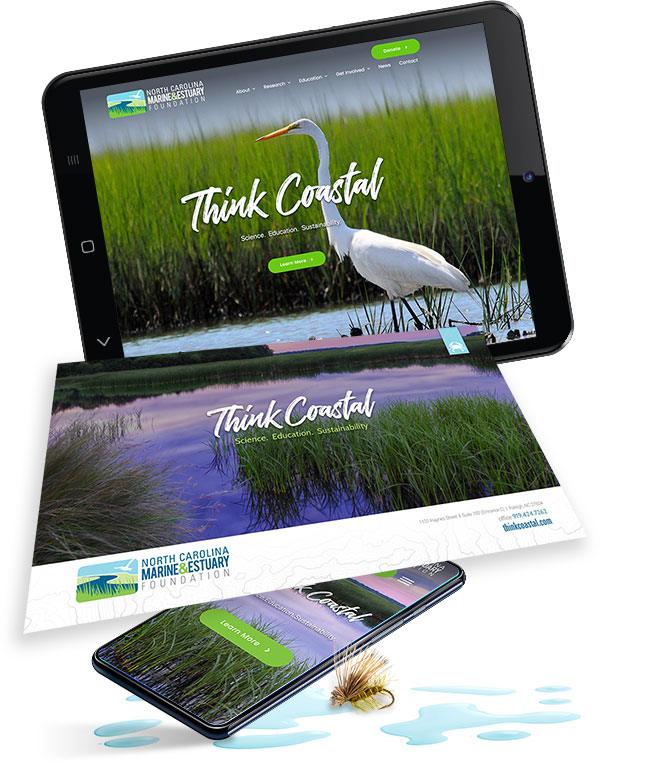 Branding is More Than Your Logo!
We approach branding engagements by first taking a holistic look at your business, current marketing and collateral, messaging, visual identity and digital assets (including of course your website) to make sure they're aligned. From there we make experience-based comparisons with your goals and competition to understand what is working and what needs attention.
Whether you're just starting out or have an established brand in need of a facelift, we'll help identify your best path forward and provide exceptional creative services to get you there. And of course, if you just need a logo…we can talk about that too.
"A brand does not exist within a company or organization. A brand exists in the minds of your customers." – Lucidpress
A brand & website audit is a detailed process for reviewing the current state of your identity and marketing. Through our process we'll provide honest, expert feedback which uncovers how your brand functions as a unit, how your current marketing efforts measure up and what needs improvement.
Creating the right visuals, voice and messaging around your products or services requires goals, a process and a strategy. Our Team will help develop a roadmap for creating your voice, telling your story and developing just the right visuals and website.
Your logo is the single-most important element in your visual identity. It's there to represent you 24/7/365 and is truly the face of your business. From ideation to final design, our Team will develop a logo for your brand that is easily identified and memorable.
Brand Standards & Style Guides
A strong visual brand must be consistent across all of your identity elements, marketing collateral and website. The same for your voice and messaging. Quite simply, it all needs to match. We'll create brand guides & standards for your business which help bring it all together.
Not every branding assignment is for startups. There are many times that we're brought in to help revitalize the visuals & messaging of an existing brand that's either showing its age or has changed direction. Rebranding can often breathe new life into your business!
Your business card & identity package, may seem like a minor detail. But you shouldn't overlook their importance! If you've ever swapped cards with a peer and were immediately struck with envy, you what we mean. You've got to have a business card that folks want to keep, not toss…and that's where we come in.
Ready to take your marketing to the next level?