Most boat manufacturers we know are passionate, smart people, but they're not all experienced marketers. They're great at building excellent watercrafts … and not so great at convincing folks to buy them.
We get it: It's hard to get out of the weeds, identify your brand story, figure out what makes you different from your competitors and persuade boaters to choose your product.
Will and Elizabeth Leslie needed help with branding and marketing when they acquired Beavertail Skiffs, a Bradenton, Florida-based builder of shallow water boats. So they came to us with a couple of pretty big challenges.
When Branding Doesn't Align with the Product
Their biggest issue was brand awareness. Beavertail needed to establish a reputation as a quality skiff builder that would compete with bigger players in the industry. Nearly as important, the existing advertising and marketing looked outdated compared to competitors'—and it certainly didn't match up with the great boats they were producing.
Will and Liz are great clients: veterans of the marine industry, committed to quality and craftsmanship, and personally connected with their Beavertail skiff owners. So we rolled up our sleeves and got to work right alongside them.
Why a Brand Audit Matters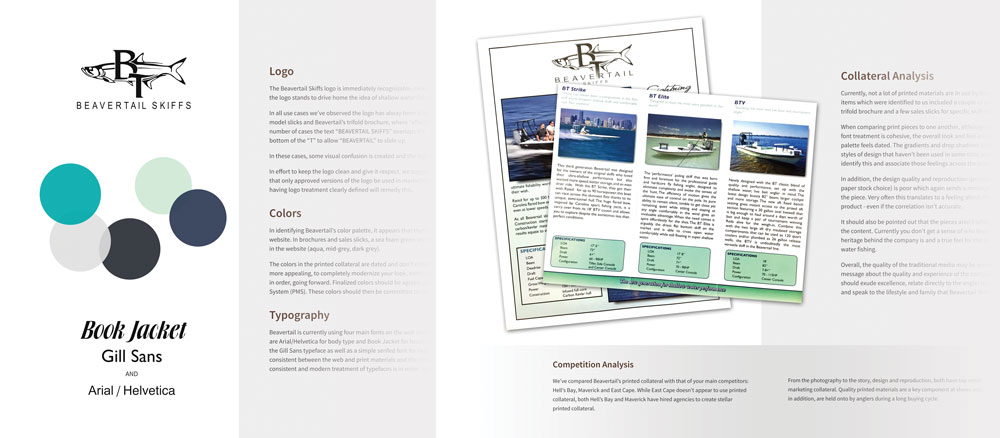 Our first step—on this and on every project—was a brand audit so we could get to know the brand and understand what people think of it. We looked at everything from brand elements like logo, color and typography; to communication style; to online and printed marketing materials, including their website and advertising. We then benchmarked Beavertail's brand presence and sales data to its competitors. We interviewed their internal and external audience, vendors, customers and guides, looking for patterns—recurring themes that revealed challenges, opportunities and even the bad news that's tough to hear.
New clients always immediately ask us what we can do to sell their products, but that's like asking for the prescription before getting the diagnosis. Our brand audit for Beavertail revealed what needed fixing, and why.
We knew we had to identify what we could do quickly to make the show a success.
The project was complicated by the fact that Will and Liz needed to relaunch the brand at the Miami Boat Show three months later. Ordinarily, we advise that clients spend two to three months at the start of an identity project to develop an underlying strategic framework that addresses what we discover during the brand audit. But with Beavertail, we knew we had to identify what we could do quickly to make the show a success, and then circle back to fully build out the brand strategy.
Two Brand Priorities
To hit our show deadline, we focused on two key elements of the brand: the logo and the website. Their existing mark had been around for a long time and was recognizable, so we made some refinements and recommended a new color system to blend with their boat designs.
Renovating Beavertail's website was the other priority. The old site missed the mark from both a design and content perspective: too much copy, too much black and white, too many dockside boat photos. The site didn't capture the excitement of the boating lifestyle, represent Beavertail's quality or make it easy for buyers to choose the right model.
Our new site leads with fantastic video of Beavertail skiffs in action, immediately transporting you right out on the water. Of course, all the product info and specs are super easy to find—and we added a section that celebrates owners and creates community. We encouraged them to create a blog section that communicates the brand's story, talks up special events and spotlights brand ambassador Capt. Blair Wiggins of Addictive Fishing. The site is the centerpiece of a whole modern marketing ecosystem that we've developed for the brand.
Of course, we also hustled to create display elements for the Miami Boat Show: backdrops, signage, marquees and printed materials. Take a look at more of the brand system here.
Smart Branding Drives Big Results
You'd have to know Will and Liz, who are naturally enthusiastic and animated, to understand what I mean when I say that their response to our rebranding work was gushing. More important, their bottom line shows results.

Our work together yielded an increase in traffic to BeavertailSkiffs.com of nearly 65%, and nearly 75% of those site visits come from organic search results. (Here's how we recommend improving your search results.) Better yet, site visitors are spending more time on the site. And we've grown the brand's social engagement, from just under 4,000 to more than 27,000 followers on Instagram, and more than tripled their Facebook followers.
What's even cooler is that the company is still growing: They've added four new models to the product line since the beginning of our collaboration, and their production schedule is nicely booked.
Beavertail Skiffs is a well-regarded boating brand that makes terrific products, backed by people who genuinely care about their customers. We love being part of their success. We're ready to help you, too. So drop us a line.
---
Did you find this insight helpful? Share it!