Brand loyalty is everything for a long-lasting company. If you're not already aware of what brand loyalty is, let's go ahead and define it real quick so we're all working from the same baseline.
Brand loyalty is when your customers go out of their way to promote your product or choose to purchase items from your brand exclusively, without being paid and despite potentially having to pay a premium for the product.
This is huge.
Why Brand Loyalty is Important
Brand loyalty is important for a few reasons. First and foremost, it drives your advertising costs down. Your brand-loyal customers are advocating for your brand without being paid. When you can get folks to champion your products – just because they like them – you don't have to work as hard to promote yourself. (See photo above of brand stickers on the window of this non-sponsored vehicle.)
Brand loyalty also creates an avenue for recurring sales. Customers love quality products that last a long time, but everything eventually gets worn down. These items need to be replaced and your loyal customers will come back (again, without you having to advertise to them) to replace their worn out products. Even if your products last forever, customers will buy extras, purchase gifts, or branch out to other products you sell and will be right back in your store to fill their needs.
Brand loyal customers increase sales and reduce advertising costs. If that doesn't make it seem important, I don't know what will….
How to Create Loyalty for Your Outdoor Brand
Now that we've taken a look at the importance of brand loyalty, let's see what you can do to attract (and retain) those customers.
Have a Good Product
It seems like it would go without saying, but the most important thing is to have a good product. Surely, you've done your research and created the best tent, backpack, boat, or rod-n-reel possible. If you don't produce the best quality equipment you can, start there. In some cases, this could be the only thing you need to hook lifetime customers.
Conversely, creating a poor quality or ineffective product (waking up to wet tent walls is a huge bummer) can be a death wish for a company… especially in such a social media-centric world. They say "all publicity is good publicity", but believe me, that's not the case.
Take the time to craft a quality product and you'll see the rewards.
Provide Good Customer Support/Service
Second only to having a world-class product is providing superior customer service. Brand loyalty is about relationships and relationships are between people, not products. Making an effort to solve problems, answer customer questions, and being a listening ear are the foundation of creating lasting relationships. The key is to listen and be timely with your support.
Great customer service is more than just helping a customer, it proves to them that you're in it for the long haul. It shows that the company cares about its loyal customers and even says something about the high quality of your products.
Brand loyalty, especially in the outdoor industries, requires more than just the obvious business concepts though….
Create a Culture that Transcends Your Products
If you're looking for inspiration on transcending your brand, just look at companies like Costa Del Mar and Yeti. If you're not quite sure what I mean, take a look at this recent ad from Costa Del Mar:
Sure, there's a pair of sunglasses in there somewhere, but it's all about a lifestyle. Yes, they want you to nab a pair of their shades, but they really want you to believe that these are the sunglasses that fishermen (or women) wear. It's clearly more important – at least in this advertisement – that you marry fishing and Costa Del Mar in your mind. Once you've equated those two things, you're more likely to stick with Costa Del Mar for life.
Another great way to build this transcendent culture is through giveaways and apparel. Assuming you're not already an apparel company looking to actually sell your product, giving away some goodies that your customers want to wear is great. Heck, even if you are an apparel company, everyone loves freebies!
Last year, Yeti Coolers gave out trucker hats to about 50 folks at ICAST 2015. Fortunately, I was one of those lucky people and I wear that hat ALL.. THE.. TIME. It's comfortable, it's high quality, and it's got a cool tarpon on it. Not only am I promoting Yeti each time I wear it, it even sparks conversations with other people that either know the brand or want to know what I'm wearing.
On the heals of the success of the Yeti trucker hats, we did the same thing for one of our fantastic clients, Beavertail Skiffs. Granted, these are also for sale in their online store, but they make great giveaways at shows and demo days!
https://www.instagram.com/p/BIIexdPD-3A/
These beautiful hats cost a few bucks, sure, but they solidify the relationship with current customers, turn them into advocates for new customers, and can themselves begin to form a loyal customer out of someone who's never even purchased one of their products. But they will when they're ready!
Give Back
One of the biggest shifts of the last decade for customers has been the focus on purchasing sustainable products from ecologically responsible companies. Being involved in efforts to protect our planet is important in and of itself, but it doesn't do your business any good if you don't let people know!
At the risk of overdoing it on the Costa Del Mar references (no, they don't sponsor this blog), their latest "Kick Plastic" campaign shows how to tap into a cause that's so important to so many people. Full disclosure, I don't even own a pair of Costa sunglasses, but I have this sticker hanging at my desk: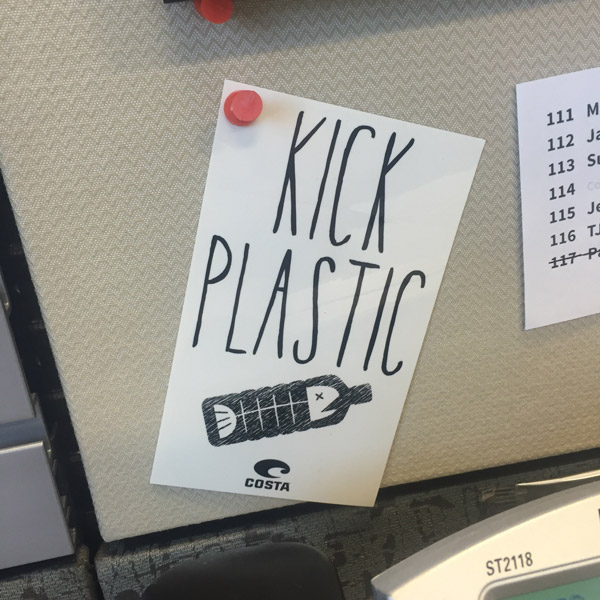 The campaign seeks to bring awareness to the amount of plastic we (come on, human race!) dump into our oceans each year. Beyond awareness, Costa has also committed to reducing plastic in their packaging, using more recycled materials in their products and processes, and exploring new ways to produce their products that will reduce waste. That's all VERY IMPORTANT to today's consumers!
Let's Wrap Things Up….
By now you get it. Brand loyalty is hugely important and it's not that hard to garner from your customers. Make a quality product, provide helpful and responsive service, and be involved with your customers where they are.
If you can do this (hey, it's fun!), you'll be well on your way to forming lifetime relationships with your customers!
We truly believe that everyone is capable of achieving this success, but if you want a hand, we'd love to talk to you. This is what we do and we do it well. Give us a shout so we can talk about how we might be able to work together to create brand advocates for you!